Boat Party Gran Canaria 2022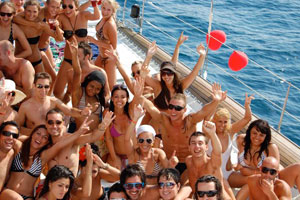 The best boat party on Gran Canaria.
Still no ideas for your holidays? Sail away on your holidays: party on a boat
Come to the
Mtv Gran Canaria boat party
and enjoy a sensational day trip. We sail from Puerto Rico to Mogan, and reach some of the most breathtaking scenery of the island's coast.
Along the way we'll take a break where you can swim in the crystal clear blue water. Snorkelling and a banana ride is offered too, all inclusive.
An open bar and snacks are available during the trip, as you are on a boat party, everything is ready to entertain you. Let us suggest to you our incredible Jacuzzi to relax in and take a rest after the dancing.
If you are looking for something to amuse you on your holiday, do not hesitate and book the boat party here. The party has just started!
This cruise is the perfect place to celebrate stag,bachelor or hen parties, birthdays or just the fact that you are on holiday!
2022 Is your year to celebrate with Gran Canaria Boat Trips
We offer special prices for groups or you can hire the whole boat for you and your friends.
Please specify in the comments when booking or contact us in case you are celebrating on of the following events :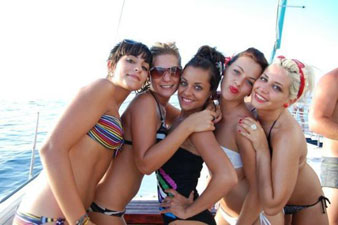 Hen Do Boat Party Ideas
We organize a lot of Hen do boat party packages, hen weekends or hen holidays during the whole year, we can organize private boat hire or we talk with the groups for the similair dates and see if we can share the boat, to reduce the costs!
this way your hen party in Gran Canaria will be a lot more economical, fun, and exciting! Dont be afraid to contact us and to ask, We know its a very special moment for you and your friends/family/beloved ones , Try us and Let us show you and help you make your special event one of the best and most exciting moment, experience of your life.

Latest Bachelor/Hen Boat Party organized together with AQUA discopub Meloneras : Special mixed Boat Party
Check out here the fotos from this incredible Event.
2017-04-22
Stag Boat Party
We organize a lot of Stag parties during the year, private or we talk with the groups and we share the boat, this way your party will be a lot more economical, fun, and exciting!
Bachelor Boat Party
We organize a lot of Bachelor parties during the year, private or we talk with the groups and we share the boat, this way your party will be a lot more economical, fun, and exciting!
Birthday Boat Party
Do you want an original way to celebrate your birthday, an aniversary , a fifty years wedding! We will organize it, contact us and let us nake you have a unforgettable day with memories that will stay with you. Let us take care of it, we know it is really important ,50th anniversary there is only one,book with us, relax!
Private Boat Party
Are you a big group, maybe from your company that you work with ,or your sports team.Contact us if you want to to hire a boat for your group!
Vip Boat Party
¿Are you a famous person?
Do you want absolute discretion,sorry who are you?If you want to get something done,no matter what size ,if it needs to be done just contact us.
Events Boat Party
Do you have an Event Company?

Coming to Gran Canaria?
Do you need tailored trips for your clients?Are they driving you crazy?Team Work Activities... Fun... Engaging....Don't worry, we have been working with Events Agencies ( Evea Agency,Hanssen.se, etc....) for a long time,contact us and let us help you!
Don't waste your time thinking about it, book your trip now and enjoy the experience of spending a day full of dance, entertainment, water sports and drinks, you'll never forget it!
And the best thing is: it is economic, including lunch, drinks, snacks and all the free activities.
Free Gran Canaria boat party activities:
Banana ride: one of us will take you for a ride on the banana boat (for 4 people) and we will try to send you into the water for a dip.
Snorkeling: we have all you need to snorkel to feel like a fish and enjoy the views under the ocean.
Extra Gran Canaria boat party watersport activities:
Parasailing, for only 25 € (which is an unforgettable way to feel like a bird and the perfect solution to get rid of stress.
Jet ski: another amazing water sport that will increase your adrenalin and make you laugh like a child… at the stunning price of 25€ for two people.
After all these activities, you might need to take a rest on the Jacuzzi, don't miss it, go and relax.
Our crew will suggest our special cocktails to you, and remember that all drinks are free on board!
Yes, our
boat parties in Gran Canaria
are good for your health, as laugh and amusement are the keys to make you happier.
After recovering your energy, you can join us on the dance floor, feel the rhythm of our music and dance while sailing the day away.
You can come back to the Jacuzzi if you feel tired and recover energy to go back to dance!
Transport to the boat is included and we'll pick you up from your hotel at 12 noon and return you to the hotel afterwards at about .
Come with us and you won't regret it!
You will have a great party time on your
catamaran boat party
here with us in Gran Canaria!
Boat Party Gran Canaria 2022
Book the Oficial Mtv & Pacha boat party from 2022 in Gran Canaria at the best price now!